St. Pius X Catholic Church
St. Pius X Catholic Community - Home
Church at 1800 North Camino Pio Decimo, Tucson, AZ 85715
St. Pius X Catholic Church, Tucson
---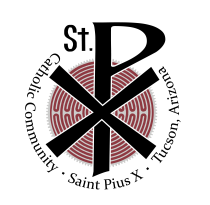 St. Pius X Catholic Church contacts
St. Pius X Catholic Church rating
★ ★ ★ ★ ☆ (6 reviews)
How would you rate St. Pius X Catholic Church?
☆
☆
☆
☆
☆
Vacancy St. Pius X Catholic Church (jobs):
Coming soon
Advertisement
St. Pius X Catholic Church photos
Make a Donation to help this Church website!
Your donation will help further our mission to share information about St. Pius X Catholic Church on site alluschurches.com and add services for the Church. Your donation will also help humanitarian services and coronavirus pandemic aid.

St. Pius X Catholic Church video
Last reviews about St. Pius X Catholic Church
in Tucson, AZ
Add your review. Your feedback helps to get feedback and an honest opinion about the St. Pius X Catholic Church.
Thanks to the reviews, people get the knowledge of mistakes or warmth and delight of gratitude.
★ ★ ★ ★ ★

We really feel the Love in this church, since the first time we attended, I cannot imagine going to any other church.

Added October 17, 2021 by Eva

★ ★ ★ ★ ★

Parishioner of 25 years, there's no better community in Tucson.

Added July 11, 2017 by Michael Jones

★ ★ ★ ★ ★

I lived in Tucson for 3 months for work. When I moved, I didn't know a soul. St. Pius was amazing. I was moved to tears after the first mass because I felt so welcomed and I experienced God's grace so powerfully there. I loved it!!

Added June 26, 2017 by Emily Charvat

★ ☆ ☆ ☆ ☆

Rude when it comes to getting a food box I was denied food today because the lady said I lived with a man that Lives in the same complex as me I think its really sad if I had the funds for food I wouldn't be there but to hear others in the parking lot talking about how they all live together and each got their own bags its really heartbteaking some of us really dont have a scrap of food to our name...and I'm pretty sure I know where and who I live with I've been there plenty of times she seemed irritated with all the people there but thats not my fault I was in need of food and now I'm left with nothing I'll pray for her thats all

Added January 12, 2017 by sassyQueen 29

★ ★ ★ ★ ★

I love the Pius community. I feel very welcome a.nd the music is great.

Added December 06, 2016 by John Delgado

★ ★ ★ ★ ★

Wonderful Parish. They have a terrific midnight service on Christmas Eve. However, you should get there early if you want a place to sit..turnout is impressive & leads to standing room only.

Added November 12, 2016 by Tina Butler
How would you rate St. Pius X Catholic Church?
☆
☆
☆
☆
☆
St. Pius X Catholic Church website info
Website address: stpiusxtucson.org
Website title: St. Pius X Catholic Community - Home
Website description: St. Pius X Catholic Church, Tucson